UN Global Funding Appeal - Explosive eruption of La Soufrière Volcano- Saint Vincent and the Grenadines
On 9 April 2021, after months of heightened activity, La Soufrière volcano entered an explosive state on Saint Vincent and the Grenadines.  To date, it is estimated that 20,000 persons have been displaced through mandatory evacuation of the red and orange zones, which commenced on April 8. However,  the vast majority of the population has been adversely impacted by this disaster.  The eruption of La Soufrière comes as Saint Vincent and the Grenadines is recovering from its largest COVID-19 surge amid the pandemic, and the region's worst Dengue outbreak in recent history. La Soufrière is likely continue to erupt in the coming weeks and maybe even months. The long-term effects of a protracted eruption on agriculture and tourism, which are the mainstays of the Vincentian economy and contribute about half of the Gross Domestic Product (GDP), will further exacerbate the already devastating socioeconomic impact of COVID-19. It will also reduce capacity for recovery and erode hard-earned development gains. A rapid response that effectively links  immediate humanitarian assistance to early recovery and rehabilitation is urgently needed, as the fast-approaching hurricane season poses an additional threat to an already vulnerable population.
Funding raised through the UN $29.2M Global Funding Appeal for the La Soufrière Volcano Response Saint Vincent and the Grenadines and Affected Countries ,will provide immediate lifesaving humanitarian aid including cash assistance and clean water, and support a sustainable recovery, including through repairs to homes and support for livelihoods. The UN and partners will also assess the economic, social, and environmental impact on countries affected by the volcano, supporting with ash removal and improving environmental health conditions. Another priority is to continue preventing the spread of COVID-19 as part of the shelter management work and all humanitarian and recovery efforts.
For more information on how to contribute to the UN Appeal contact:
Tia Browne 
Development Coordination Officer
Partnerships and Development Finance
Resident Coordinator Office
Email: tia.browne@un.org
Phone: +1 (246) 832-6107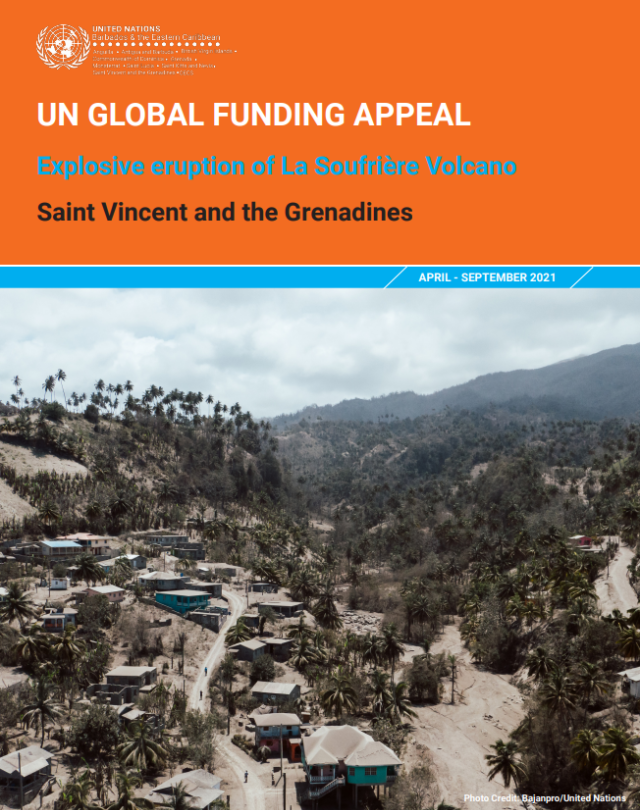 Goals we are supporting through this initiative