Press Release
President of the UN General Assembly Visits UN Team in Barbados
28 July 2021
Wrapping up a three-island Caribbean tour, President of the UN General Assembly , Volkan Bozhir,  today visited UN House where he met briefly with the UN Sub-Regional Team for Barbados and the Eastern Caribbean and heard directly of their ongoing work.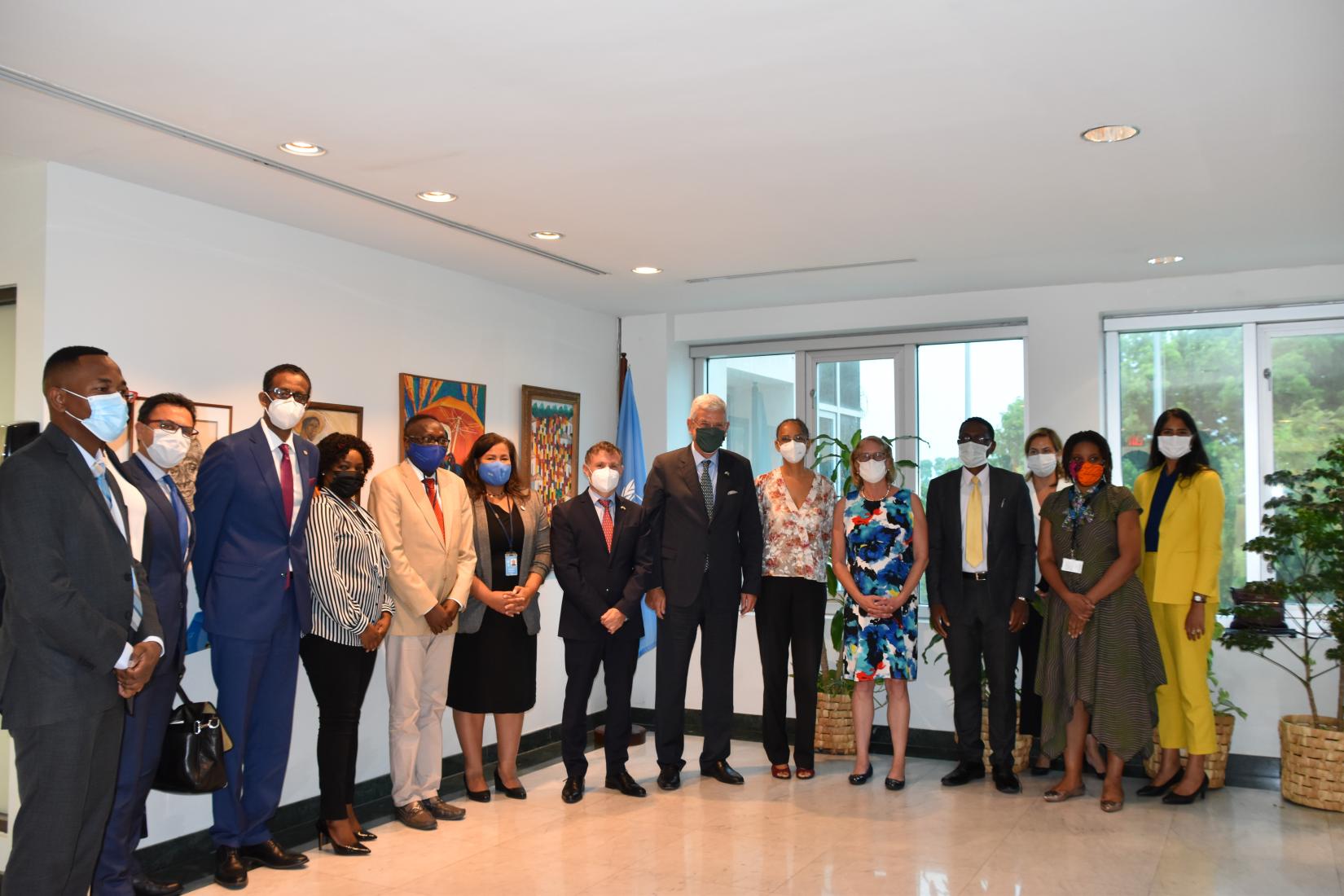 This included recovery efforts in support of Caribbean SIDS battling impacts of the COVID-19 crisis and the eruption of the La Soufrière volcano in Saint Vincent and the Grenadines, of which the UN official would have witnessed first-hand while touring the volcano-ravaged Red Zone.
UN Resident Coordinator, Didier Trebucq,  who also accompanied Mr. Bozhir on his Mission, chaired the meeting, and thanked the President for taking the time to meet with the UN Team.
"The team here is comprised of approximately 20 agencies, with 16 agencies joining us today including those joining virtually.  In addition to responding to disasters, we are also working on the ground in prevention, providing  tailored development assistance to countries,  in areas including climate change, supporting on COVID-9 response and recovery," he explained.
The UN team represented in person and on-line, presented an overview of their work in the region that included support for health systems strengthening, value chain development, sexual and reproductive health, sustainable jobs, climate resilience, gender-based violence, and social protection. They also highlighted ongoing work in COVID prevention in terms of promoting vaccine access and efforts to combat vaccine hesitancy, an area Mr. Bozhir described as a priority.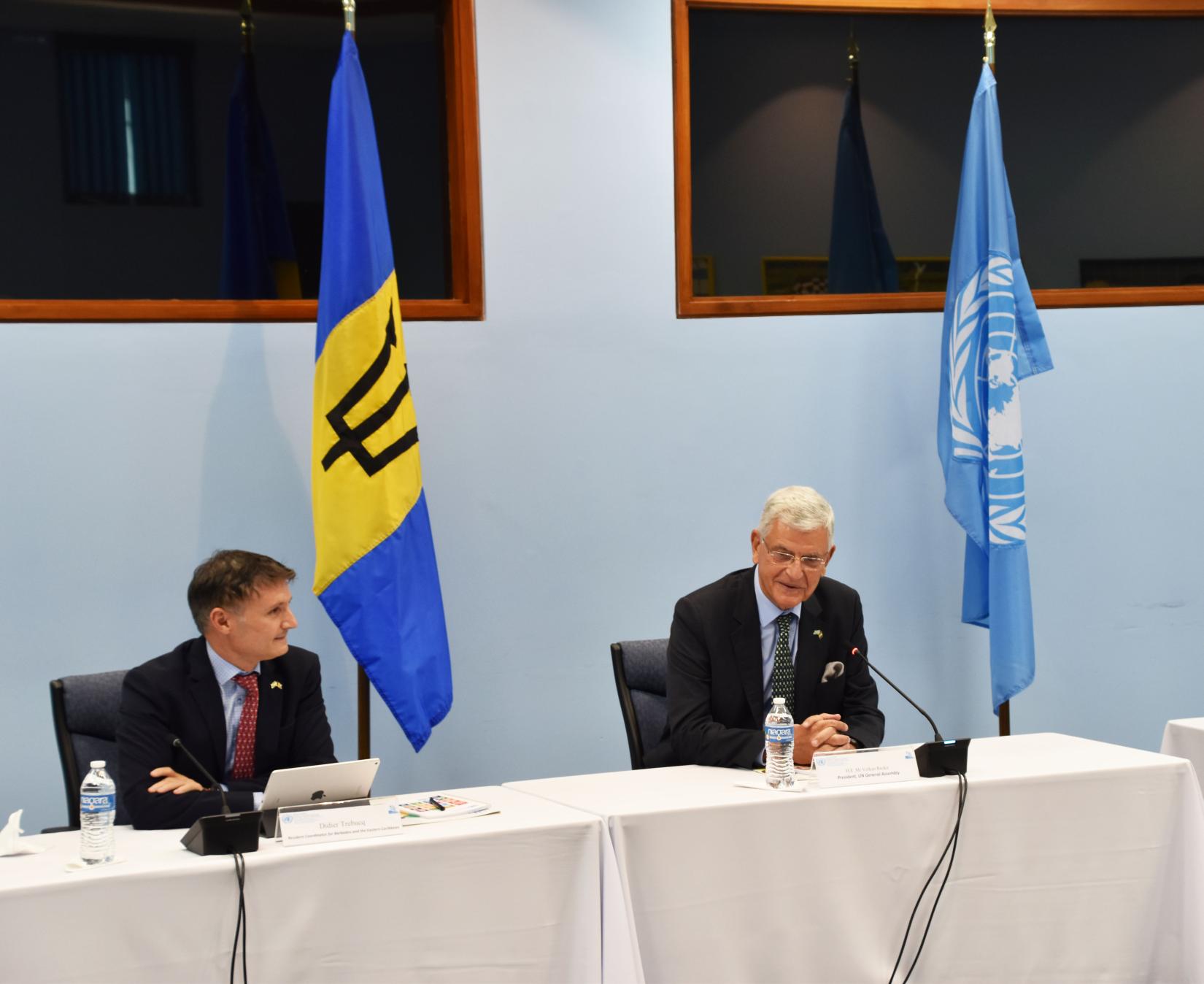 President Bozhir  praised UN colleagues for their commitment to global UN Reform and to delivering as one for greater impact. 
"The UN owes much to people like you who are dedicated, courageous and brave. You are the face of the UN . You deserve all the applause and support you receive in this very difficult job. Travelling to the other countries, I know of all the difficulties this region faces.  The countries and Governments appreciate all the work we are doing, "  he said.
The UN House tour was preceded by a  meeting with Prime Minister Mia Mottley , and followed by  a working lunch hosted by Barbados Minister of Foreign affairs Dr. Jerome Walcott  and Minister of Tourism and International Transport, Ms.  Lisa Cummins, the final engagement of the Mission.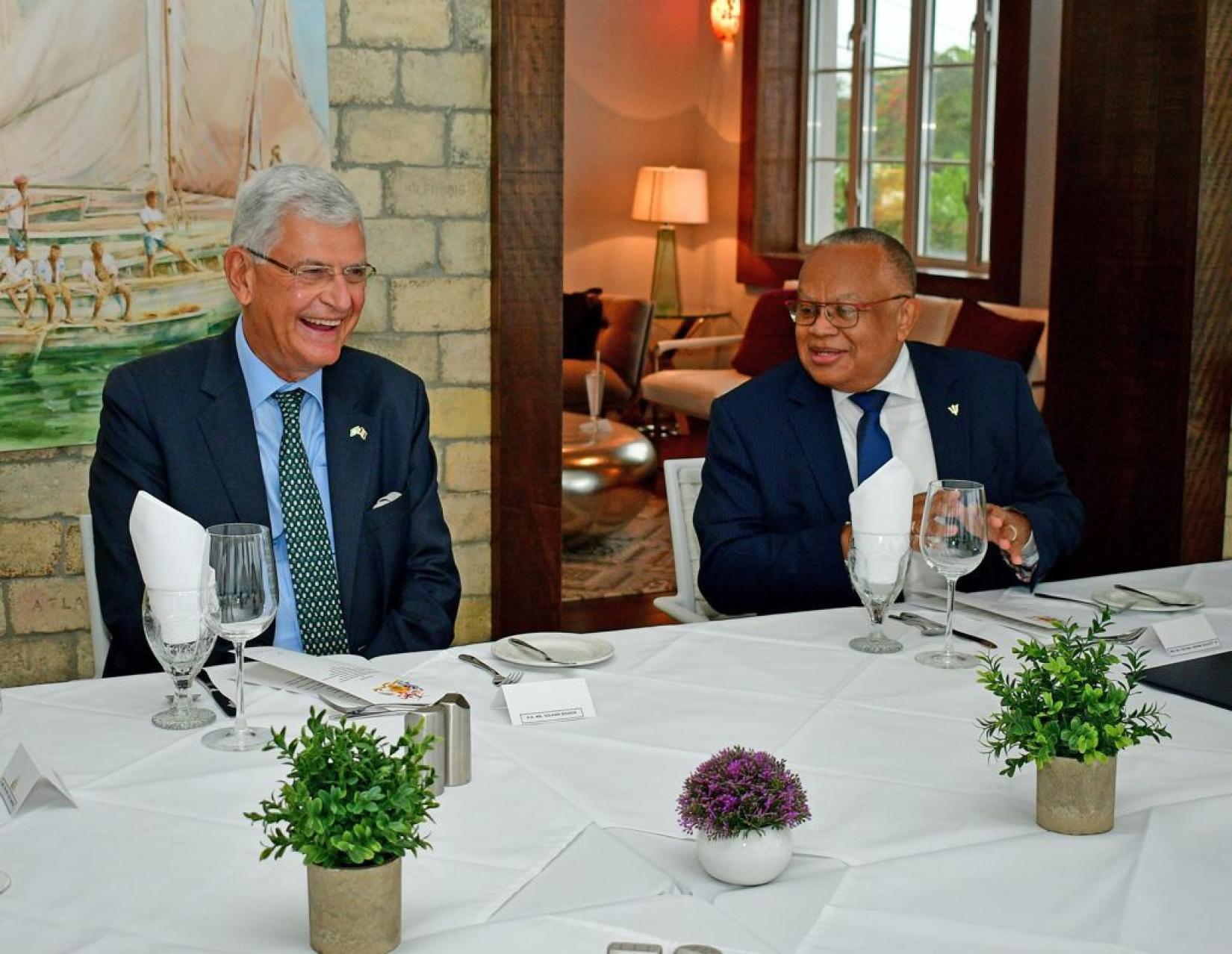 Prior to his arrival in Barbados, the UN diplomat paid official visits  to Antigua and Barbuda and Saint Vincent and the Grenadines, where the delegation paid courtesy calls on respective Prime Ministers and other senior Government officials, visited the Red and Orange Zones, and held discussions with representatives  from the World Food Programme and the National Emergency Management Organisation among others supporting ongoing recovery efforts in Saint Vincent.
The team returned to the New York that evening , with the promise that the GA President would continue to be an ally and a voice for Caribbean SIDS  until the end of his presidency.
President of the UN General Assembly Visits UN Team in Barbados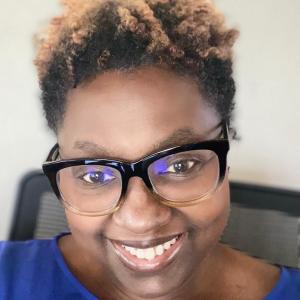 Carol A. Gaskin
RCO
Programme Communications and Advocacy Officer
UN entities involved in this initiative